The dentistry that does not stop at the clinic: orthodontics
What do you call a dentist in Chelsea who treats a condition and the only tool they use is a camera on a probe? As an alternative in many cases to traditional orthodontic treatment we offer clear aligners and if the thought of any oral procedure or even seeing a dental professional makes you anxious, it could be a great option.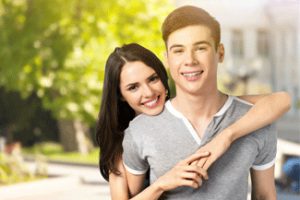 The clear aligner has been used in dentistry for the last 20 years or so. Their precursor was the use of dental splints, which were explored in the '70s but were found to be ineffective. Shortly afterwards, thick rubber aligners which were used over metal braces were tried, in the hope that they would shorten treatment time. This was also found to be ineffective.
Before there could be progress, there had to be a leap forward in materials, which happened with the plastics revolution. Then 'Invisalign' was founded as a two-person start-up and tried to make a business that would take a mould of patients' teeth and scan them in a studio. They would then use the scan to calibrate a simulation of a mouth with high fidelity.
They could then explore how much force was needed and where it had to be applied to move the teeth. The result was a 3D force vector map. Only then could an aligner be made, which generated the correct focus on the teeth.
The results are an unlikely set of aligners; to produce such an individually tailored item would be very expensive by most manufacturing techniques. UV light and SLS 3D printing was the best option. This was dentistry on the very cutting edge in the '90s and Invisalign secured a patent for the inventiveness of the design.
The 2000s bought with it an explosion in the quality and quantity of 3D scanners and 3D printing, while computer costs continued to fall. By the late 2010s, cloud computing helped Invisalign to provide the best aligners.
Invisalign's patent at one time could stop all competition, but recently there has been a group of new clear aligner providers who operate outside of our dentist in Chelsea, who use direct advertising and a provided DIY dental mould kit, which is posted back and scanned.
Due to a mix of overpromising and the unsupervised application of medical equipment, they have worried the British Orthodontic Society (BOS). Here at our dentist in Chelsea  we will only work with aligner manufacturers who provide their services via local dentists.
The group of patients most likely to be tempted to use at home orthodontics are nervous patients, who may have very negative associations with dentistry. Unfortunately, they often have complex needs and the quick fix seems all too alluring.
Communication with our dental staff is the first step to resolving any orthodontic issues you may have. We always prioritise our patient's needs and can provide the clarity required to make an informed choice about your dental care.
If clear aligners are appropriate it is a very non-invasive procedure; we can perform an intra-oral scan without the need to take dental moulds or we can create a 3D model from X-rays.